Transform Your Outdoor Space with a Masterful Patio Makeover
Are you looking to create a beautiful outdoor space that will last for years? Installing Brick Pavers has never been easier than with Edmonton Masonry!
– With over 20 years of experience, they specialize in installing and repairing paving stones for driveways, walkways, patios, and more.
– Our certified installers use premium products that meet ICPI standards and offer free estimates.
– Plus, our landscape design services are sure to make your dream patio come to life.
– Whether you're looking for repair or installation help, we have the know-how to make it happen.
– Get ready to increase your home's value with the help of Edmonton Masonry Pavers!
You want your outdoor living space to look great and last for years. Hiring a professional to install a paver patio is the best way to ensure quality results.
They can help you choose from a variety of materials, like flagstone and interlocking stone pavers, that will bring your vision to life.
You want your outdoor living space to look great and last for years. Hiring a professional to install a paver patio is the best way to ensure quality results.
Edmonton Masonry can help you choose from a variety of materials, like flagstone and interlocking stone pavers, that will bring your vision to life.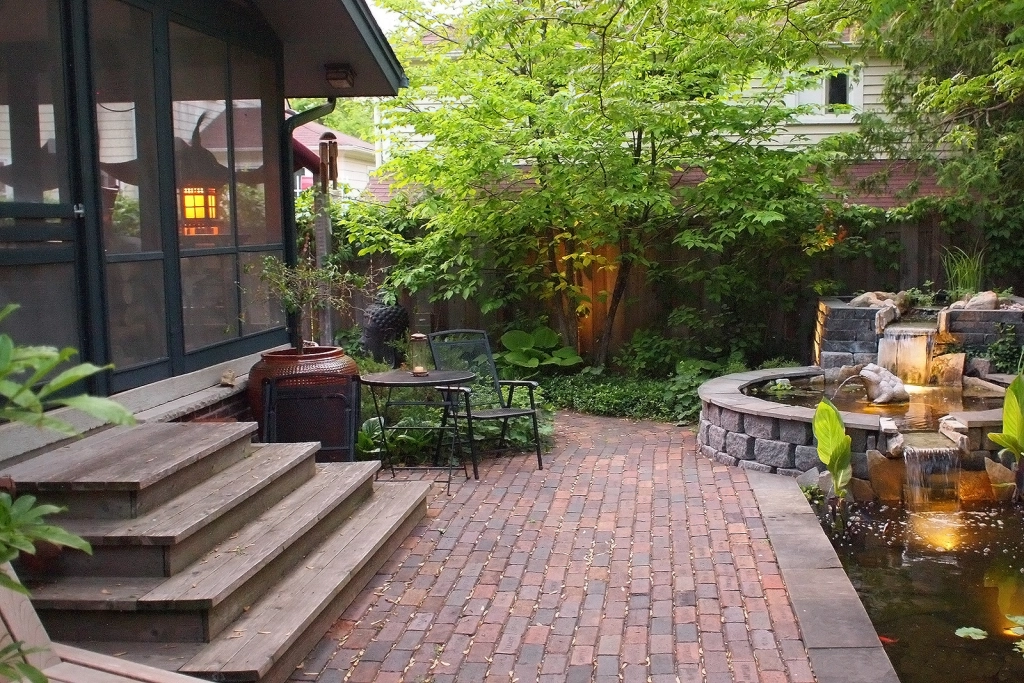 Benefits
Services
Smooth process
Custom design
Dependable results
High-quality materials
Expert advice
Hardscaping & landscaping
Time savings
Serving Edmonton area
Quality assurance
You know that installing a new patio can be a great way to improve your outdoor living space. But did you know that the type of pavers used also makes a big difference? Edmonton Masonry Pavers offers quality installation services with experienced certified installers and high-quality materials.
Not only do pavers provide an aesthetic boost to your home, but they are also incredibly durable and long-lasting due to their installation process. Investing in pavers is an excellent way to add value to your property and create a beautiful outdoor living area.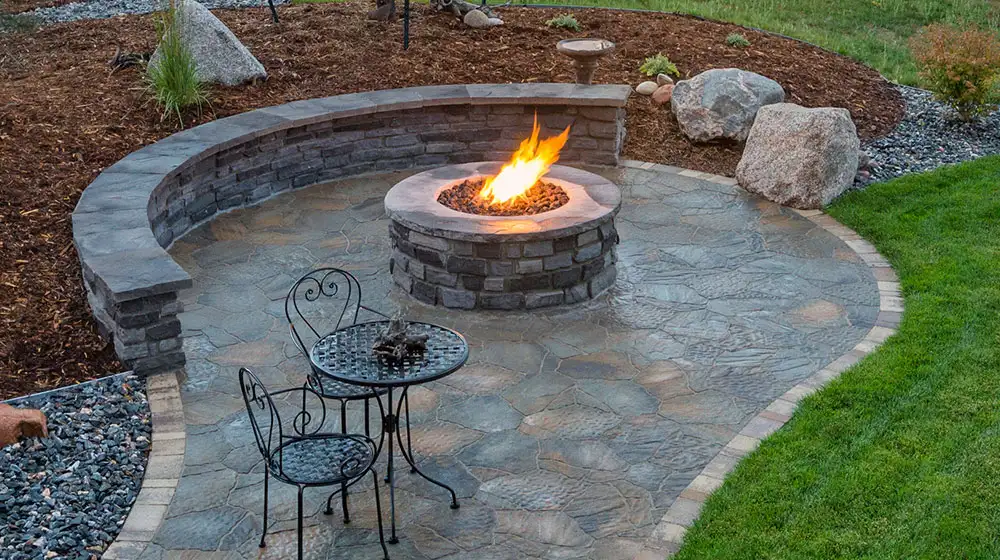 Reimagine Your Backyard as a Luxurious Paradise with a Spectacular Patio
Designing the perfect patio requires careful consideration of various materials. From natural stone pavers to flagstone and tumbled stones, there are many options to create an aesthetically pleasing and functional outdoor living space.
Using these materials for your patio can provide several benefits. They can increase your property value, add aesthetic appeal, and create a luxurious outdoor living area. To ensure that your vision is executed correctly, it is recommended to work with a professional contractor who has expert knowledge and experience.
Certified installers have years of industry experience and use high-quality products to ensure long-lasting results. By collaborating with a professional, you can bring your patio design ideas to life and create a beautiful outdoor space for you and your family to enjoy.
What Paver options are there?
There are several types of pavers available for creating a custom patio design. Natural stone pavers, flagstone, Interlocking Stone pavers, and tumbled stones with rounded edges are just some of the options. Each type of paver has its own unique benefits and characteristics that can add aesthetic appeal to your outdoor space.
Natural stone pavers provide a solid, durable base that is customizable and can be used to create any shape or size patio you desire. This versatility allows you to create a patio that fits your specific needs and preferences.
Flagstone offers a natural look that adds charm to your landscape. Its irregular shape and natural colors create a rustic and organic feel. This type of paver is often used to create pathways and patios that blend seamlessly with the surrounding environment.
Tumbled Stones provide a variety of shapes and sizes with rounded edges for an elegant touch. This type of paver is often used to create a more formal and polished look. The rounded edges soften the overall appearance and create a more inviting and comfortable space.
Fieldstone pavers provide neutral tones with excellent textures for a timeless look. This type of paver is often used to create a more traditional and classic design. The natural variations in color and texture add depth and character to your patio.
Choosing the right type of paver for your specific needs and preferences will help create a patio that is not only beautiful but also functional and durable. 
Each of these materials has its own unique benefits, and the choice ultimately depends on your personal preferences and the overall style you want to achieve. With the right material, you can create a patio that not only looks beautiful but also withstands the test of time
Maximize Your Property's Value with a High-Quality Brick Patio Installation
Hiring a skilled professional landscaping contractor ensures a smooth installation process and guarantees dependable, high-quality results. The contractor will use expert knowledge and experience to ensure that the project is completed on time and to the highest standard. They will also provide advice and guidance throughout the project.
During the installation process, there are several steps to be taken:
1. Excavating and levelling the ground
2. Laying down gravel for drainage
3. Installing sand for stability
4. Placing pavers in desired pattern/design
5. Filling in joints with sand or mortar mix
6. Compacting surface of pavers with vibrating plate compactor to ensure everything is level and secure
That's how we do at Edmonton Masonry then will clean up and seal the area if necessary. It's important to hire a certified contractor experienced in paver patio installations so that you can rest assured that your project is completed correctly.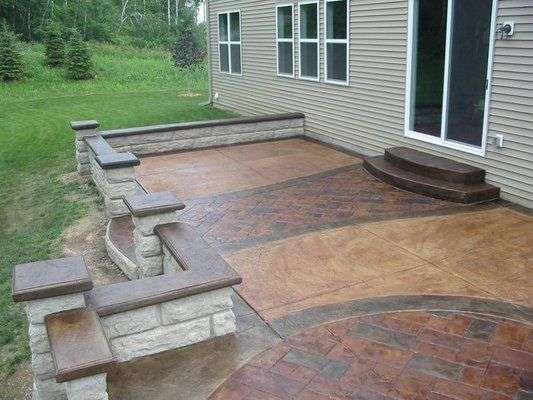 Adding a paver patio to your outdoor space can instantly increase the value of your home and create an inviting atmosphere for entertainment and relaxation. Pavers offer a variety of benefits, including:
– Durability: Pavers are built to last with strong materials that can handle heavy traffic and extreme weather conditions.
– Aesthetics: With an array of shapes, sizes, colors, and textures available, you can customize your patio to fit any style or budget.
– Low maintenance: Taking care of pavers requires minimal effort compared to other materials like concrete or asphalt.
Whether you're looking for a cozy spot to relax in privacy or an elegant entertaining area for friends and family, adding a paver patio is the perfect solution!
Now that you have a beautiful paver patio, it's important to take care of it to keep it looking its best. To ensure your patio remains in good condition for years to come, here are some essential tips for proper paver care:
– Regularly sweep or blow off debris and dirt.
– Treat stains as soon as possible with the right cleaning products.
– Seal pavers every few years to maintain color and protect from damage.
– Use jointing sand regularly during dry periods.
– Inspect edges regularly for signs of settling or shifting.
Transform your driveway into a pristine masterpiece with expert Paver Repair
Repairing Sunken Pavers with Edmonton Masonry's experienced installers guarantees long-lasting, beautiful results that will transform your outdoor living space! Common paver issues that can be easily fixed include settling caused by insufficient or failed base, rutting caused by excessive sand thickness, weeds due to deficient or contaminated jointing sand, and edge restraint failure associated with separating or settling pavers.
With ICPI certified installers and premium products, you can trust that the job will be done right. Plus, repairs can help maintain the value of your property for years to come.
Comparing concrete and pavers for outdoor patio spaces can be a difficult decision, as both have their own unique benefits and drawbacks.
Concrete is a popular choice due to its affordability and low maintenance requirements. However, it can be prone to cracking or sinking over time with frequent use.
Pavers are more durable than concrete, but they require more labor-intensive installation. They also come in a wide variety of colors, shapes, and sizes which allows you to create custom designs that enhance your landscape.
Pavers also provide better drainage than concrete and are much easier to repair should any issues arise.
Ultimately, the best option depends on your specific needs and preferences. Look at our Stucco Page to learn about this widely used product and Contact Edmonton Masonry for all inclusive Masonry Services Today!!