Don't Settle for Average: Choose A Paver Contractor that Exceeds Expectations
Are you looking to have a super-nice driveway to reflect not just your personality but the personality of your property as well? It would help if you had your home entrance to look not only beautiful but also be functional!
Get the services of an excellent Driveway Paver Company like Edmonton Masonry! If that is what you are looking for, you are in good stead. We are specialists in all masonry-related driveway services. We know how to install Brick Pavers!
Transform Your Driveway into a Showstopper
When it comes to driveways, you deserve nothing but the best. Our masonry mavens are all about saying "yes" to every type of driveway you can dream up. We're not just here to provide a safe parking spot for your wheels, but to give your property an elegant and eye-catching touch. We're not satisfied with just pouring cement – oh no, we take it to the next level with decorative masonry brick, concrete, and stonework. So buckle up and get ready for a driveway that will make your neighbors green with envy.
You don't have to worry about what our masons can do. We deliver the best irrespective of the material used. You are in safe hands anytime you want any of the following driveways:
Cement
Acrylic stamp patterns
Natural concrete
Stained concrete
Exposed aggregate
Pavers
Stamped concrete
Acrylic coating
Flagstone
Textured slate
Of course, each of these types of driveways has its pros and cons. For instance, if you decide you want a paved driveway, know that these are popular because they are a less expensive way to get the loved old-world, cobblestone effect. However, when you compare this driveway to the concrete driveway, you'll see the difference.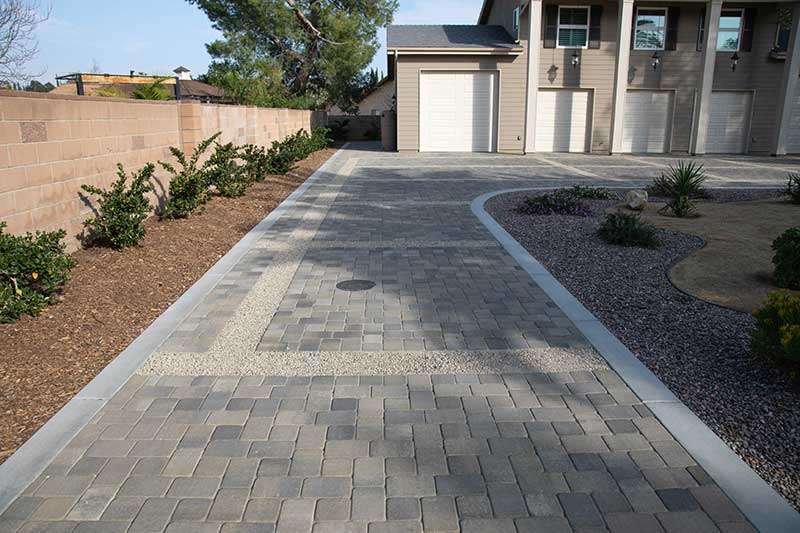 Type Of Paver: Redefine Possibilities
Edmonton Masonry offers a wide variety of styles, colors, shapes, and sizes for creating hardscape masterpieces. Their pavers are engineered for durability, performance, and safety with innovative technologies that exceed industry standards.
To ensure long-lasting results, they use two-step manufacturing processes for vibrant color retention and deep hues. Plus, their textures offer unparalleled beauty to complement any design style.
Driveway Makeover: Turn Your Dull Pathway into a Dazzling Masterpiece
We've got all the concrete options you could ever dream of, from segmented concrete to stained concrete, stamped concrete, paving stone, and even the wild and crazy decomposed granite. Yeah, you heard right, we're talking about a semi-permanent, low-cost solution that'll have your driveways and walkways looking fly.
Not sure which one is the best fit for your home? No worries, our experienced masons are here to guide you through the decision-making process. They'll consider all the critical factors and help you make the right choice, no sweat.
Cost of installation
Cost of materials
Maintenance
Appearance
Durability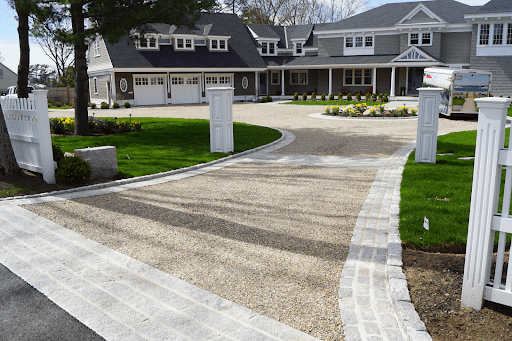 Your driveway, no matter what material it's made of, is bound to meet its match against the forces of nature. It's not invincible, after all. Whether it's asphalt, concrete, or some other fancy stuff, time will eventually take its toll. And let's not forget about the villains lurking around, like salt, oil, UV rays, gas, and the good ol' unpredictable weather.
When those cracks start to resemble the Grand Canyon, it's time to take action. You don't want any accidents or your precious ride to suffer, right? That's where we come in – the driveway superheroes. 
So, whether you need a touch-up or a complete driveway makeover, we've got you covered. Say goodbye to cracks and hello to a driveway that'll make you feel like you're gliding on a cloud. Don't wait until it's too late – give us a shout, and let's make your driveway dreams come true.
Elevate Your Driveway Game: Impress Your Neighbors with a Jaw-Dropping Design!
At Edmonton Masonry, we've mastered the art of creating driveway magic. With years of experience in the business, we're not just your average driveway experts. We are the Prod for Concrete Paver Contractor!
But it's not just about impressing the neighbors. Your home entrance speaks volumes about what lies beyond those front doors. It sets the tone, creates anticipation, and adds value to your property. 
Now, we know finding the perfect driveway can be as elusive as a unicorn. That's why we're here to make your dreams come true. Our team of professional and knowledgeable masonry maestros will work their magic, using the finest materials and craftsmanship, to create a driveway that's fit for a king or queen.
And here's the best part: if you ever decide to sell your property, that magnificent driveway will be your secret weapon. Potential buyers will be awestruck, unable to resist the allure of your stunning entrance. It's the ultimate curb appeal that will have them lining up at your door, begging for a chance to call your palace their own.
So why settle for ordinary when you can have extraordinary? Let Edmonton Masonry weave their driveway enchantment and transform your home into a majestic masterpiece. Your happily ever after awaits.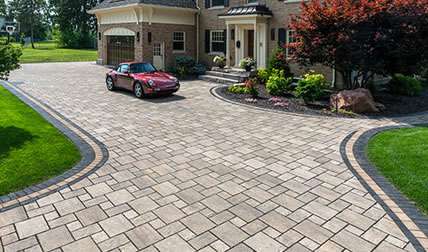 Elevate Your Outdoor Aesthetic with State-Of-The-Art Paver Installation
Transform your outdoor space into a stunning hardscape with driveway pavers. Edmonton Masonry offers an array of colors, shapes, and sizes to choose from. Our products are backed by innovative technology for durability and performance from most Brick Paving Contractor.
Plus, professional installation is key to ensure the job is done right. With our vibrant colors and distinctive textures, your driveway will add visual appeal to your home's exterior. Get ready to make a statement with driveway pavers!
When it comes to hardscape projects, waterproofing is the real deal. Our waterproofing wizards have conjured up a top-secret method that goes above and beyond industry standards. This magical method guarantees unrivaled performance and protection for your driveway paver projects. Say goodbye to water damage and hello to superior aesthetics and functionality that will last for years to come.
We've got you covered from start to finish. Our team provides all the necessary materials, tools, and equipment for a successful installation. And our experienced staff is dedicated to delivering exceptional customer service every step of the way. So you can sit back, relax, and enjoy the peace of mind that comes with knowing your investment is safe.
If you're in the market for new driveway pavers, don't forget to ask about our waterproofing solutions. We've got the secret sauce to keep your hardscape looking fabulous and protected. Trust us, you won't want to miss out on this game-changing technology.
Residential Driveway And Commercial Paver
Transform your residential or commercial space with our driveway paving solutions. With a wide range of styles, colors, shapes, and sizes to choose from, you can create the perfect outdoor oasis.
Benefits include:
– Long-lasting performance – our pavers exceed industry standards for quality and durability, backed by a guarantee.
– Visual appeal – Indulge in deep, rich hues and distinctive textures that add elegance and character to any space.
– Easy maintenance – Minimal maintenance is required to ensure long-term beauty. Professional installation ensures optimal results that will last for years.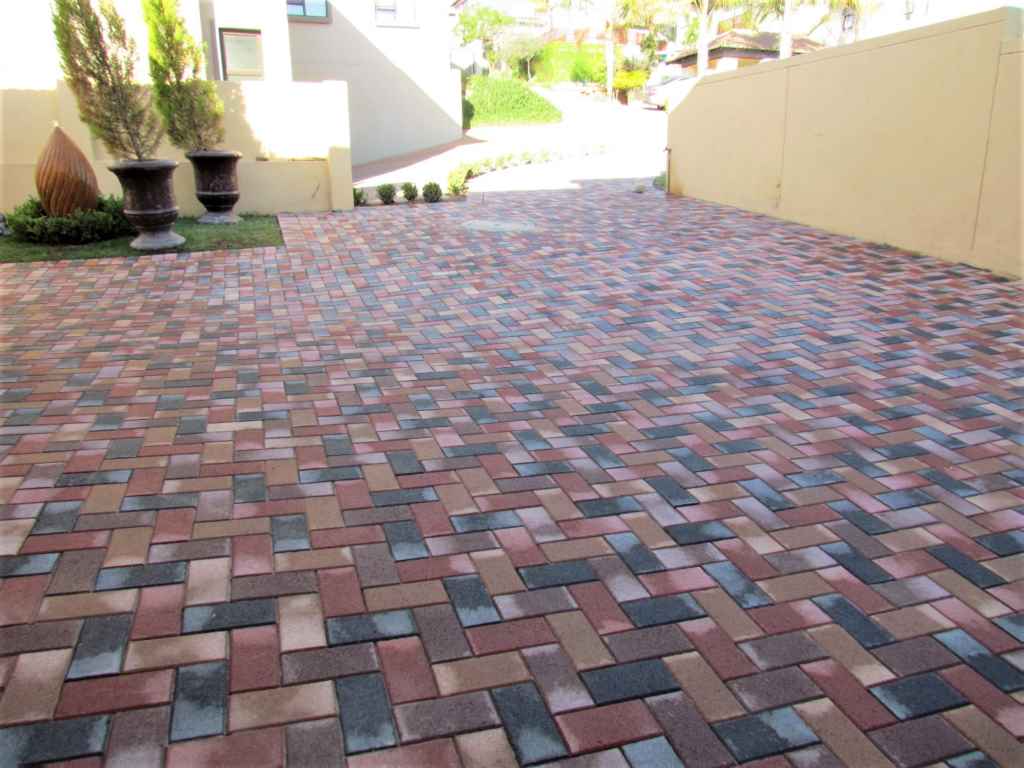 What is the best paver to use for a driveway?
There is an immense amount of options when it comes to driveway pavers!! Let's briefly look at them.
1. Concrete pavers are a popular choice for driveways due to their durability and versatility.
2. Asphalt pavers are another common option for driveways, known for their affordability and smooth finish.
3. Brick pavers offer a classic and timeless look for driveways, adding charm and elegance to any home.
4. Natural stone pavers, such as granite or limestone, provide a luxurious and high-end appearance for driveways.
5. Interlocking pavers are a practical choice for driveways, as they can easily be replaced if damaged or stained.
6. Clay pavers are a durable and low-maintenance option for driveways, with their earthy tones adding warmth to any property.
7. Permeable pavers are an environmentally-friendly choice for driveways, allowing water to drain through and reducing runoff.
8. Cobblestone pavers offer a rustic and old-world charm to driveways, creating a unique and inviting entrance to your home.
9. Gravel pavers are a cost-effective option for driveways, providing a natural and textured surface that blends well with the surroundings.
10. Rubber pavers are a safe and slip-resistant choice for driveways, ideal for areas with heavy foot traffic or where safety is a concern.
11. Composite pavers, made from recycled materials, are an eco-friendly option for driveways, reducing the carbon footprint.
12. Flagstone pavers offer a natural and organic look for driveways, with their irregular shapes and earthy colors creating a visually appealing entrance to your home.
Choose Edmonton Masonry for unparalleled craftsmanship and exceptional customer satisfaction.
Edmonton Masonry, the masters of driveways. They pave the way to perfection, one stone at a time. With their expert craftsmanship and attention to detail, they create driveways that are not just functional, but works of art.
Imagine pulling up to your home, greeted by a stunning driveway that sets your house apart from the rest. The smooth, sleek surface invites you in, while the intricate patterns and designs add a touch of elegance. It's a statement, a reflection of your style and taste.
Why settle for an ordinary driveway when you can have extraordinary? Edmonton Masonry is here to transform your driveway into a masterpiece. Contact Us today and experience the difference for yourself. Your driveway deserves it.